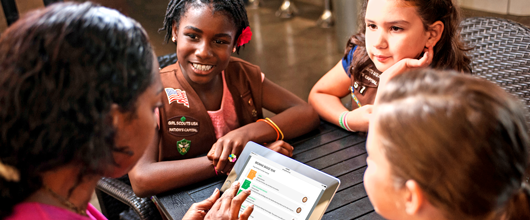 Co-Leader Training
Thank you for volunteering your time as a troop co-leader. It will be an incredible and rewarding journey.
Required Trainings
To get started as a co-leader, the following trainings are required and must be taken within the first month of starting your troop. Trainings are recommended for all Girl Scout volunteers!
GS101

New Leader Orientation

New Leader Orientation 

Learn more about your role and our council. Training is provided in-person or over the phone by your placement specialist. Contact us to schedule yours today!

Troop Finance Webinar

Troop Finance Webinar

This webinar guides you through establishing an account, record keeping and required reporting, and handling funds. It is a short and useful tool for getting your Girl Scout year off the ground and keeping you on track. This webinar is also required for troop treasurers and any volunteer responsible for coaching girls as they earn and manage money.

Prior to viewing this 15-minute webinar, familiarize yourself with the following:

 Troop Financial Management Packet (PDF)

 Request for Troop Money-Earning Activity (PDF)

Explore Out

Volunteer Tookit (VTK)

Volunteer Toolkit (VTK)

These short videos demonstrate all that you can do in the VTK – planning your year, setting meeting dates, times and locations, reviewing your meeting plan, adding meeting or activity, and finding resources. Plan your Girl Scout year with ease using this helpful tool!

Before you start these videos, check out the VTK Guide.
Become a Super Volunteer!
These training opportunities are loaded with helpful information that will expand your knowledge of Girl Scouts, and beyond!

Additional Webinars & Resources

Tips From Current Volunteers

Controlling the Room
Tips for troop leaders on the best way to get the attention of the girls in their troop.

Leader-Daughter Dynamic
Tips for how to manage when troop leaders have their daughter in their troop.

Parent Meeting
Tips for engaging parents in troop meetings and activities.

Positive Troop Environment
Tips for creating and maintaining a sage and positive troop environment.

Start-up Activities
Examples of successful activities for the girls to do at the beginning of the troop meeting.

Troop Safety
Tips for troop leaders to ensure they are following safety guidelines with their troop.

Welcoming New Girls
Tips for troop leaders to ensure new girls feel welcome as a new troop member.

Using the Volunteer Toolkit
Tips to using your digital troop assistant, the Volunteer Toolkit.
Check back as we will be developing more training opportunities for our co-leaders in the coming year!