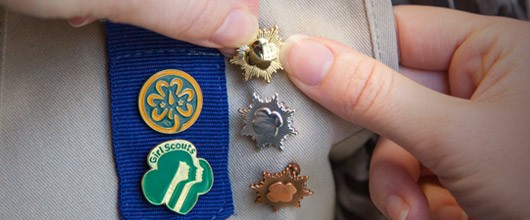 Highest Awards
Girl Scouts Spirit of Nebraska requests the honor of your presence at one of the following awards ceremonies as we recognize girls who took action to make the world a better place, and earned Bronze, Silver and Gold Awards.
Prairie Hills
Sunday, June 4 at 3 p.m.
Central Community College
Fine Arts Building
4500 63rd Avenue, Columbus

Homestead
Saturday, June 10 at 2 p.m.
Nebraska State Capitol Rotunda
1445 K Street, Lincoln

Goldenrod
Sunday, June 11 at 2 p.m.
First Presbyterian Church
4511 6th Avenue, Kearney
All three awards give you the chance to do big things while working on an issue you care about. Whether you want to plant a community garden at your school and inspire others to eat healthily for your Bronze, advocate for animal rights for your Silver, or build a career network that encourages girls to become scientists and engineers for your Gold, you'll inspire others (and yourself). 
Also a given: as you earn one of Girl Scouting's highest awards, you'll change your corner of the world—and maybe even beyond. The possibilities are endless.
Want to see what others have done to earn their award? For inspiration, check out examples of Bronze, Silver, and Gold Award projects via Girl Scouts of the USA's Map It: Girls Changing the World.
Here are the Nebraska girls who earned Girl Scouts' highest awards in 2017. You can also read about Nebraska's newest Gold Award Honorees and be inspired by their Take Action projects.