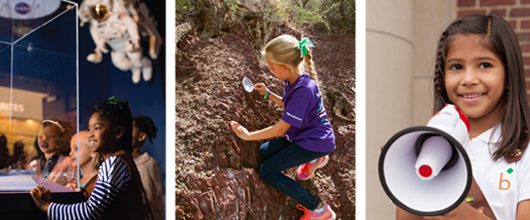 Our Program
In Girl Scouting, you're going to have tons of fun, make new friends and go on fantastic adventures.

You're also going to do big things. Our program revolves around the Girl Scout Leadership Experience—a collection of activities and experiences you'll have as you earn badges, sell cookies, go on exciting trips, explore the outdoors, create Take Action projects that make a difference and more.
The Result? A Lifetime of Leadership!
In fact, being a Girl Scout helps girls thrive in five key ways. As a Girl Scout, she:

Develops a strong sense of self


Seeks challenges and learns to persevere

Forms and maintains healthy relationships

Learns to identify and solve problems in her community
Delivering Fun with Purpose
To bring the Girl Scout Leadership Experience to life, activities are led by girls, feature cooperative learning, and highlight learning by doing. Girls come up with their own ideas, build teams and experience the joy of making a positive impact.
As a Girl Scout, she will:

Discover.
You'll find out who you are, what you care about and what your talents are. 

Connect.
Collaborate with other people, both locally and globally, to learn from others and expand her horizons.

Take Action.
Do something to make the world a better place.