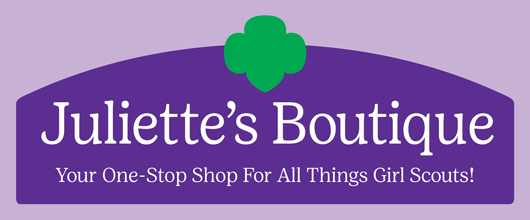 Shop
Hey, Girl Scouts, shop at Juliette's Boutique! We have six locations, and we carry all of your essentials and so much more.
You can shop in-store, email your order or shop online 24/7!
Nut Bucks, Cookie Dough and council credits are WELCOME, but cannot be used when shopping online.
Ogallala Service Center and Juliette's Boutique - closed May 18 - May 30. Call or email if you need orders shipped or picked up prior to these dates.
All Service Centers and Juliette's Boutiques - Monday, May 29 for Memorial Day.


Juliette's Boutique hours are 10 a.m. to 5 p.m., Monday through Friday, with the exception of Grand Island and Columbus, which are 10 a.m. to 3 p.m., Monday through Friday.

We can accommodate customers after hours. Call your local store to set up an appointment or send us an email. Please allow 48-hour notice!
Ogallala
302 West D Street
Ogallala, NE 69153
800.458.4467

Grand Island
820 N. Webb Road, Ste. 104
Grand Island, NE 68803
800.627.5940

Lincoln
8230 Beechwood Drive
Lincoln, NE 68510
800.487.2578

Kearney
2412 Hwy. 30 East, Ste. 1
Kearney, NE 68847
800.879.6123

Columbus
1570 33rd Avenue
Columbus, NE 68601
800.695.6690

Omaha
2121 S. 44th Street
Omaha, NE 68105
877.447.5558

Juliette's Boutique eNewsletters!

April 2017 Juliette's Boutique eNews

March 2017 Juliette's Boutique eNews

February 2017 Juliette's Boutique eNews
View our store return policies here.