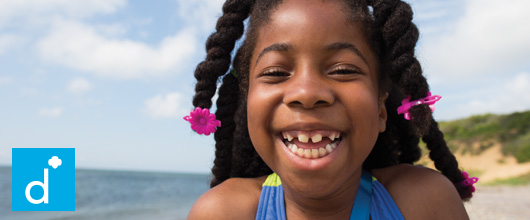 What Daisies Do
Don't we all wish we could look at the world through a Girl Scout Daisy's eyes? Everything they do—from planting a garden to putting on a skit to proudly adding that first petal to their vest—sparkles with that "first time ever" newness! Along the way, they'll use their Daisy exuberance to help others—and they'll never forget how that feels. Every Daisy meeting is an adventure filled with giggles, energy and excitement.
As a Daisy, she might:
Learn more about the Daisy petals, what they mean and how your Daisy will make the world a better place when she becomes a Girl Scout!
Uniform Insignia Placement
Girl Scout badges, patches, awards, and other insignia should be presented, worn, and displayed only after Girl Scouts have completed the requirements outlined in official program materials. Learn how you should place insignia on a Girl Scout Daisy uniform.
Grow a Daisy Kit
Get your fun and free Grow a Daisy Kit*, so your daughter can begin her incredible Girl Scout journey before she starts kindergarten. Each kit contains instructions and seeds to plant your own daisy garden.
*Daisy Kits were created for girls in K-1 who are not yet members. If you are a Girl Scout or joining soon, you will already be doing the same Daisy activities with your troop!