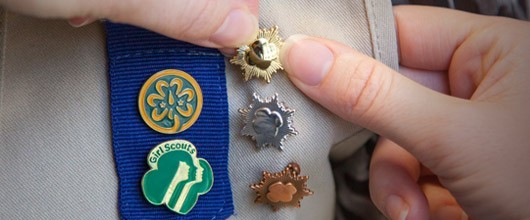 Highest Awards
Every Girl Scout goes above and beyond to make a difference in her community and the greater world. The skills and experiences she gains along the way set her up for special recognition through the Gold, Silver, and Bronze Awards.
All three awards give you the chance to do big things while working on an issue you care about. Whether you want to plant a community garden at your school and inspire others to eat healthily for your Bronze, advocate for animal rights for your Silver, or build a career network that encourages girls to become scientists and engineers for your Gold, you'll inspire others (and yourself).
Let us know if you are planning to earn your Bronze, Silver or Gold Award with the Girl Award Intent Form.  We'll support your Girl Award journey with helpful tips and milestone reminders.
As you earn one of Girl Scouting's highest awards, you'll change your corner of the world—and maybe even beyond. The possibilities are endless.
Want to see what others have done to earn their award? For inspiration, check out examples of Bronze, Silver, and Gold Award projects via Girl Scouts of the USA's Map It: Girls Changing the World.
2020 Girl Scout Girl Award Ceremonies 
Girl Scouting's highest awards – the Bronze, Silver, and Gold – recognize girls who make a lasting difference in their communities and the world.
Normally we celebrate these inspiring girls, who have demonstrated leadership and taken action to make positive change in the world, along with the girls who earned the Product Program 1000 Club Award, during special spring ceremonies.
Sadly, the uncertainty of these challenging times has led us to make the difficult decision to cancel this year's Girl Award Ceremonies.
Congratulations to all of the girls who earned their Highest Awards this year. Check out our online Girl Award Program and watch a special message of congratulations from our Chief Operating Officer Lisa Hiatt.  
Deadlines Extended
To allow girls time to complete Take Action projects that may be affected by coronavirus restrictions, Girl Scouts Spirit of Nebraska has extended the deadline for girls working on their Bronze and Silver Awards to September 30, 2020.
In addition, Girl Scouts of the USA is further extending the deadline to December 31, 2020, for girls who are bridging. The December 31 deadline includes girls working on Gold Award projects who are bridging from Ambassador to adult and who already have their projects approved.